Never miss a new release by Kimberly Rose Johnson.
Follow her on Amazon to be notified whenever a new book is set to release.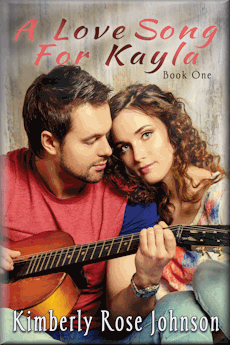 A Love Song for Kayla
Sweet Rose Press
Available at Amazon
When two strangers cross paths their lives are forever altered.
Ever since she was sixteen Kayla Russell has dreamed of her perfect man. She even went so far as to make a list of desired qualities. The list has proven to be a bust since no man is that perfect, at least until she meets Derek. But will his secrets come between them and destroy what could have been something wonderful?
When music superstar Derek Parker comes to small town Oregon to escape the paparazzi he goes incognito as a deliveryman. He wants to leave his old life behind, but it proves to be harder than he realized when his past finds him. Now the woman he has come to care for feels deceived and no longer wants anything to do with him.
Formerly published under the title A Valentine for Kayla.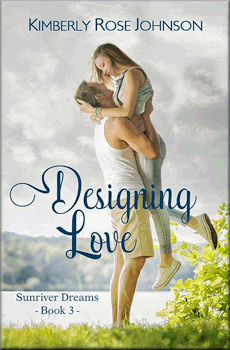 Designing Love
Mountain Brook Ink
Coming in April 2017
Someone is framing Sierra as the culprit. Can Spencer Preston discover the true criminals before he looses her?
Sierra Robbins, single mother and interior design assistant, wants to provide a stable home for her teenage son and become a successful interior designer. She's well on her way to both goals when she agrees to house sit a home in Sunriver, Oregon. It couldn't be more perfect. She'll be close to her job at Belafonte Designs while living rent-free. But things don't go as expected beginning on day one when a police officer responds to the alarm they set off at the house. Was that alarm a sign of trouble to come?
Spencer Preston, lives for his job as a police officer in Sunriver, but when he responds to a house alarm and finds Sierra and her son there everything changes. Suddenly he finds himself torn between the upholding the law and protecting the woman he believes is innocent.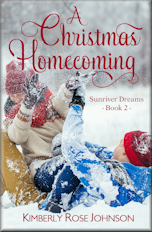 A Christmas Homecoming

Mountain Brook Ink

Available at Amazon

Can the mystery of Christmas unite two hurting hearts?

Bailey Calderwood gives all she has to her job as an interior design assistant, but her best isn't good enough for her demanding, bed-ridden boss. For some unexplained reason Mona has turned against her. At least not everyone is out to get her. A mysterious admirer is sending her cards and flowers. Could it be her boss's son who's recently returned home in time for the holidays?

Stephen Belafonte rushes home from France to be with his mother after her stroke and is surprised by the rift between his mom and Bailey, her assistant. When his mom demands he fire Bailey, he's torn between respecting his mother's wishes and doing what's best for the family business. Can Stephen find a way to heal the rift in his family as well his own heart, or will he be forced to let Bailey go?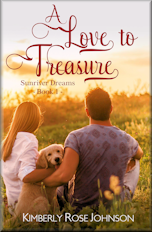 A Love to Treasure

Mountain Brook Ink

Available at Amazon

School teacher Nicole Davis is on summer break, but this vacation is unlike any other. Her beloved Grandmother's final wish has landed Nicole smack in the middle of her favorite destination—Sunriver, Oregon, following Grams's clues on a mysterious scavenger hunt. Unexpectedly, Nicole finds more than just a fellow sleuth in a handsome police officer, Mark Stone. But Mark must return to his job in Portland at summer's end, and Nicole must guard her heart.

Mark is hoping for a quiet summer in Sunriver as he contemplates his future in law enforcement, but a string of burglaries draws him from his self-imposed break from detective work and thrusts him into the middle of the investigation. To complicate matters, Nicole is in jeopardy, and he knows his growing feelings for her could cloud his judgment. Will their differing career goals be the end of their summer romance—or just the beginning of forever after?

Releases June 30, 2016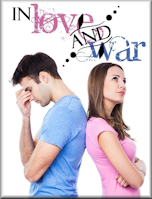 In Love and War Novella title: Designed with Love

Mountain Brook Ink

Available at Amazon

To save her fledgling landscape business, Jessie Morgan is determined to win an important design competition--even though her major competitors are ex-fiancé Brendon Jacobs and one-time best friend Scott Meyers. Tensions are high in the quaint town of Silver Springs, Oregon as neighbors and friends take sides. Will Brendon drive Jessie and Scott farther apart, or will they join forces...and find love in the process?

Releases June 1, 2016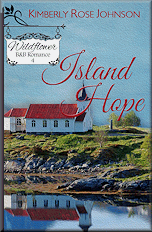 Island Hope

Mountain Brook Ink

Available at Amazon

Metal sculptor Hope Michaels gave up on art when her creativity was zapped by another. Burying herself in her electrical contracting business, Hope takes a job on Wildflower Island. She never imagines that a job at the Wildflower Resort will turn everything in her life upside down. But that's exactly what happens when her best friend and employer, Piper, plays matchmaker.

A lonely widower throws all his energy into raising his teenage daughter, but when he is promoted to manager of the Wildflower Resort, things at home don't go as smoothly as planned. Worried about his relationship with his daughter, he seeks advice from a feisty-but-sweet newcomer. Will she help smooth his path or will things only get more complicated?

Coming February 2016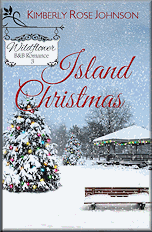 Island Christmas

Mountain Brook Ink

Available at Amazon

Sous Chef Rachel Narrelli returns to Wildflower Island looking for a fresh start for herself and her young son, but instead she discovers that life has a lot of bumps in the road even on idealic Wildflower Island. She is grateful to her friends for their support, especially Chris, who stands with her through it all. She cares for the man, but is she willing to risk her heart?

A self-proclaimed workaholic, Chris Campbell comes to Wildflower Island hoping to invest in the hot real estate market and take life at a slower pace. When a new guest at Wildflower B&B catches his eye he is smitten, but how will a woman and her young son fit into his future, when he's not even sure he will have a future due to a heart condition?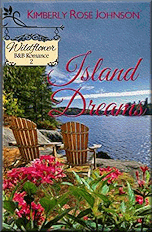 Island Dreams
Mountain Brook Ink
Available at: Amazon
Piper Hunt arrives on Wildflower Island to develop family property into an upscale resort knowing this may be her last chance to prove her worth to her father. With grandiose ideas, she soon finds herself at odds with adjoining property owner, Chase Grayson. As she begins to appreciate the simplicity of the island, she struggles to maintain balance between her father's wishes, preserving the natural beauty of the island, and her attraction for Chase.
Chase Grayson values the peace and quiet of Wildflower Island. That serenity is threatened when Piper Hunt discloses her plans to develop an upscale resort that not only butts up to his property, but will turn the island into a busy tourist destination. In fighting her plans, he also finds himself fighting his attraction to her. If he doesn't stop her plans for the resort, his life will be altered forever. If he succeeds, it means he will never see her again. Can he live with either choice?
"Island Dreams is a lovely story--perfect for summer reading! If you're a fan of sweet romance you'll enjoy Johnson's latest entry in the Wildflower B&B series." Kathleen Fuller
'Good characterization, an idyllic setting, and a sweet romance makes Island Dreams, a tale of two people with opposite dreams, a book you'll love to read."
Vickie McDonough, best selling author of 36 novels and novellas, including Gabriel's Atonement, book 1 in the Land Rush Dreams series.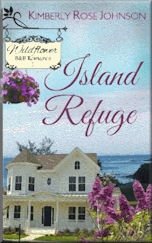 Island Refuge
Mountain Brook Ink
Available at: Amazon
Five-Star-Chef Zoe Griffin walked away from her dream job. Did she make a mistake?
Her engagement off, Zoe Griffin retreats to tiny Wildflower Island in the Puget Sound. Hiding out as a cook and maid at a shabby bed-and-breakfast seems crazy for a chef who's used to running her own five-star kitchen. And just as she starts to feel at home, her klutzy mishaps make Zoe fear her handsome new boss will fire her.
Dr. Nick Jackson is done with medicine, and owning a B&B is as far from doctoring as he can get. He needs help, but his only employee's mistakes give him doubts. As Zoe lets her defenses down, Nick begins to see a competent and caring woman. One whose wounds are as deep as his own. But as they fall for each other, Nick and Zoe must learn the hardest lesson of all—to forgive. Only then can they heal the past and embrace the future . . . together.
Kimberly Rose Johnson's story draws you into the lives of her characters and you find yourself rooting for them. -- Margaret Daley, USA Toady Bestselling Author--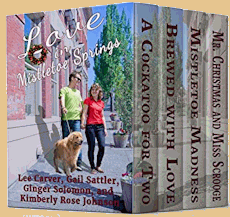 Love in Mistletoe Springs
Available at: Amazon
Trouble happens when the Mistletoe Springs animal shelter loses their grant.
The only way to save it is by running a fundraiser with a Christmas in July theme.
But this is easier said than done!
See how the group of volunteers scrambles to get all the details together amidst trials and tribulations,
struggling with details and organizing and life in general - and is it good or bad when love gets in the way?